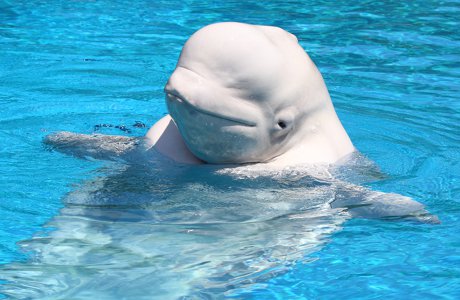 Dreams come true on Atlanta real estate. At the Georgia Aquarium guests get up close to some spectacular aquatic creatures. Many who have dreamed of kissing a whale, petting a penguin or hugging a dolphin can do just that. Animal encounters allow bucket list items to be satisfied and crossed off.
Beautiful Beluga whales call out a hello ready to meet new friends. An educational briefing highlights the characteristics of the whales and then an amazing adventure begins. Guests climb into the water with these gentle giants. Awesome in size and playful in temperament Beluga whales show off with tricks and games. Everyone in the group feels the texture of their skin, feeds them fish and accepts a hug or kiss. What a hand to flipper high five experience! Whale sharks hold the title of largest fish in the world. Patrons suit up to swim or dive with these magnificent creatures. Guides lead the way maneuvering through the Ocean Voyager tank. Snorkelers stay close to the surface while those who are certified delve down deep into the tank. Alongside the Whale sharks an amazing array of fish and other sea life call the Ocean Voyager exhibit their Atlanta home as well. Remarkable moments next to creatures of the deep will not be soon forgotten.
Get Down with Dolphins Calling Atlanta Home
Friendly dolphins have enchanted the human population throughout time. The Georgia Aquarium is more than pleased to introduce these favored sea critters to visitors passing through. Spending approximately 30 minutes poolside in the folks head backstage, meet the trainers and learn about the lighthearted animals. Playing and leaning in for flipper hand shakes are once of a lifetime experiences. Close by in the Cold Water Quest Gallery others are formally introduced to a crowd of penguins. These little guys are dressed for success and amuse one and all with their antics. Memories are made getting to know all about the adorable birds.
Age limits apply to all Animal Encounters on Atlanta real estate. Please contact the Georgia Aquarium at 404.581.4000 for more information on these programs and reserve a spot for this priceless experience.